Carrie's Cafe
Gaining experience - with delicious results
Carrie's Café is the popular, student-managed restaurant of the Department of Hospitality Leadership. Students enrolled in HSP 435 (Restaurant Management) design Carrie's menu, prepare and serve the food and market the restaurant.
Carrie's Café is open to the public during certain times throughout the semester. Please refer to this website for hours and days of operation.
We are now located on the fourth floor of Pummill Hall. Metered parking available in Lot 14, 22, 24 and 38 (Bear Park South). If parking in metered parking at Bear Park South, the Bear Line Shuttle designated Red Route stops at Carrington which is right next to Pummill.
Fall 2023 - Grand Opening: Thursday, September 21st
Days of Operation: Fall 2023
September 21st, 26th, 28th,
October 3rd, 5th, 10th, 17th, 19th, 24th, 26th, 31st
November 2nd, 7th, 9th, 14th, 16th,
Tuesday & Thursday
11:30 A.M.-1:00 P.M.
Dine-in and Carry-out
*Dining space is limited
​​​​​​​
Reservations preferred by calling
417-836-4409 between 8:00 a.m.- 11:30 a.m.
or
(417) 836-4224 between 11:30-1:00 p.m.
Location
Pummill Hall, 4th Floor
930 S Carrington Ave
Springfield, MO 65897
417-836-4224
Fall 2023 Menu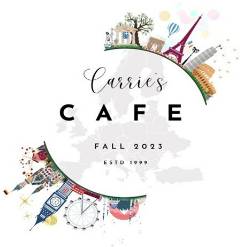 ​​​​​​​
Small Bites & Sharables
Hummus Trio $7
House made roasted red pepper hummus, basil pesto hummus, baba ghanoush, & crispy pita chips
Bruschetta Caprese $7
Cream, feta, & parmesan cheeses, cherry tomatoes, fresh basil, & balsamic glaze on a crispy baguette
Pita Nachos $9
Roasted chickpeas, fresh tomato, feta, cucumber, red onion, kalamata olives, tzatziki, & dill on crispy pita chips


Handheld & Rustic Platter
Falafel Pita $10
House made falafel, fresh cucumber, tomato, kalamata olives, garlic hummus, & tahini sauce served in a pita, with choice of side
Hunter's Chicken $10
Baked chicken breast, smoked bacon, gouda, & barbecue sauce served on a ciabatta roll, with choice of side
Ploughman's Lunch $12
British pub style platter of meats, cheeses, fresh vegetables, fruits, & dipping sauces, with handmade focaccia bread, with choice of side
Salads & Bowl

Fattoush Salad $10
Romaine lettuce, Roma tomato, cucumber, red pepper, red onion, arugula, lemon vinaigrette, & crispy pita chips
Add Chicken or Salmon $4
Italian Grinder $10
Chopped iceberg, fresh tomato, cucumber, red onion, ham, salami, provolone cheese, parmesan vinaigrette, with crispy pita chips
Add Chicken or Salmon $4
Shawarma Bowl $10
Romaine, fresh cucumber, cherry tomatoes, red onion, feta cheese, topped on a bed of turmeric rice served with handmade naan bread
Add Chicken or Salmon $4

Entrée
Fig & Prosciutto $12
Handmade flatbread topped with hot pepper jelly, figs, prosciutto, & feta cheese, with choice of side
Add Chicken or Salmon $4
Greek Pasta $12
Linguine noodles tossed in creamy feta & herb sauce, artichoke hearts, tomatoes, kalamata olives, with choice of side
Add Chicken or Salmon $4

Sides à la carte
Greek Potato Wedges $3.5
Hummus & Pita $3.5
Mediterranean Side Salad $3.5
Dessert
London Fog Crepe $6
Light, fluffy crepe topped with house made London fog ice cream, blueberry compote & white chocolate drizzle
Tiramisu $6
Velvety mélange of espresso dipped lady finger cookies, layered with mascarpone cheese, dusting of cocoa powder
​​​​​​​Beverages
Iced tea $2
Hot tea $2
Coffee $2
Signature Beverages
Lavender Lemonade Spritzer $3.5
Flavored Iced or Hot Coffee $4 Flavors – Butter Toffee, Caramel, Cinnamon Dolce, Mocha, Pumpkin Spice, Vanilla, White Chocolate Mocha
Dine-in and Carry-out
Phone: 417-836-4224 or 417-836-4409
*Limited Dine-in seating. Reservations strongly suggested