Carrie's Cafe
Gaining experience - with delicious results
Carrie's Café is the popular, student-managed restaurant of the Department of Hospitality Leadership. Students enrolled in HSP 435 (Restaurant Management) design Carrie's menu, prepare and serve the food and market the restaurant.
Carrie's Café is open to the public during certain times throughout the semester. Please refer to this website for hours and days of operation.
We are now located on the fourth floor of Pummill Hall. Metered parking available in Lot 14, 22, 24 and 38 (Bear Park South). If parking in metered parking at Bear Park South, the Bear Line Shuttle designated Red Route stops at Carrington which is right next to Pummill.
Spring 2023 - Closed for the Semester
Days of Operation: Spring 2023 -Closed- Reopening Fall 2023
February 23
March 2, 7, 9, 21, 23, 28, 30
April 4, 6, 11, 13, 18, 25, 27
Tuesday & Thursday
11:30 A.M.-1:00 P.M.
Dine-in and Carry-out
*Dining space is limited
​​​​​​​
Reservations preferred by calling
417-836-4409 between 8:00 a.m.- 11:30 a.m.
or
(417) 836-4224 between 11:30-1:00 p.m.
Location
Pummill Hall, 4th Floor
930 S Carrington Ave
Springfield, MO 65897
417-836-4224
Spring 2023 Menu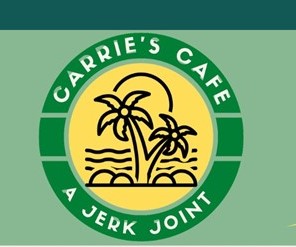 ​​​​​​​
Little Bites
Salsa & Guacamole duo $7
Caribbean guac & sweet mango salsa, house made chips
Jerk Chicken Wontons $7
Jerk chicken, green chilis, smoked gouda, fried
Loaded Plantain Nachos $9
Plantain chips, seasoned ground chicken, cotija cheese, black beans, lettuce, tomato, onion, house made salsa
Handheld
Jerk Chicken Tacos $10
Jerk chicken, tomato, jalapeno, cilantro, & pineapple pico, flour tortillas & chipotle lime crema Served with one side of choice
Chimichurri Burger $10
Seasoned ground beef, avocado, red onion, white cheddar, & chimichurri sauce, brioche bun Served with one side of choice
Salads & Bowl

Caribbean Rainbow Salad $10
Romaine lettuce, mango, artichoke, avocado, cherry tomato, green onion, salsa & chickpeas, honey lime dressing
Add Grilled Chicken or Salmon $4
Jamaican Bowl $10
Roasted sweet potatoes, sauteed collard greens, arroz con gandules & house made mango salsa
Add Grilled Chicken or Salmon $4

Main Dish
Rasta Pasta $12
Creamy pasta tossed with Caribbean jerk chicken, grilled bell pepper, green onion, & parmesan cheese Served with one side of choice
Add Chicken or Salmon $4
Pepper Steak $12
Marinated & grilled sirloin steak, mixed bell peppers, & green onions, served with arroz con gandules Served with one side of choice
Jerk Salmon Tostada $12
Coconut rice, black beans, cheddar cheese, & grilled jerk salmon on a crispy tostada, topped with pineapple peach salsa Served with one side of choice

Sides à la carte
Street Corn $3.5
Jerk Sweet Potato Fries $3.5
Chips & Mango Salsa $3.5
Caribbean Coleslaw $3.5
Add Chicken or Salmon $4
Dessert
Bananas Foster Fritters $5


House-Made Ice Cream
Pina Colada Sundae $5
Coconut Lime $4
​​​​​​​Beverages
Iced tea $2
Hot tea $2
Coffee $2
Signature Beverages
Raspberry Lime Bellini $3.5
Iced coffee $4 Flavors – Caramel, Mocha, Butter Toffee, Vanilla, White Chocolate Mocha, Cinnamon Dolce, Pumpkin Spice
Dine-in and Carry-out
Phone: 417-836-4224 or 417-836-4409
*Limited Dine-in seating. Reservations strongly suggested - Closed for the Semester