Advisement
Advisor appointments
To schedule an advising appointment, select an appointment schedule link below.
Schedule an advising appointment with Katy Seery
Once an appointment is scheduled you will receive an email from your advisor within 36 hours containing the meeting information (in-person, virtual, phone or email).
We ask you to be sure you will have reliable internet access at the scheduled virtual appointment time.
Expert guidance—a partner in your success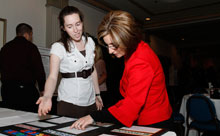 A professional advisor dedicated to Hospitality Leadership will help you succeed. Contact your advisor to set up an appointment.
The department offers two degrees, a bachelor of science and a bachelor of applied science. Both programs prepare students for leadership roles in hotels, restaurants, resorts, casinos, special events and many other areas.
---
Resource for the Bachelor of Science
---
Resources for the Bachelor of Applied Science (for students with an AAS)